A bakery in California has created a Star Wars sculpture of Han Solo frozen in carbonite made entirely out of bread. The humorous project draws inspiration from The Empire Strikes Back, when Darth Vader freezes Solo in carbonite to test if he can use the same process to capture Luke Skywalker. Solo's frozen body is given to Boba Fett, a bounty hunter who flies the pilot to Tatooine, intent on collecting his bounty from Jabba the Hut. Despite Solo's fate being left up in the air during The Empire Strikes Back, its sequel, Return of the Jedi, sees Luke, his sister Princess Leia, and the rest of their space-faring crew arrive at Jabba's palace to rescue Solo.
Since the first use of carbonite, the unique imprisonment process has been implemented multiple times in other Star Wars media. Carbonite is featured in the Disney+ series The Mandalorian, where it's revealed the process could cause those who are frozen to go blind. Carbonite has also been featured in multiple Star Wars comics, including an instance where Princess Leia is frozen between the events of Empire and Return. Recently, though, carbonite has appeared in another Star Wars series, Andor, revealing the process can also be used as a general way of transporting goods.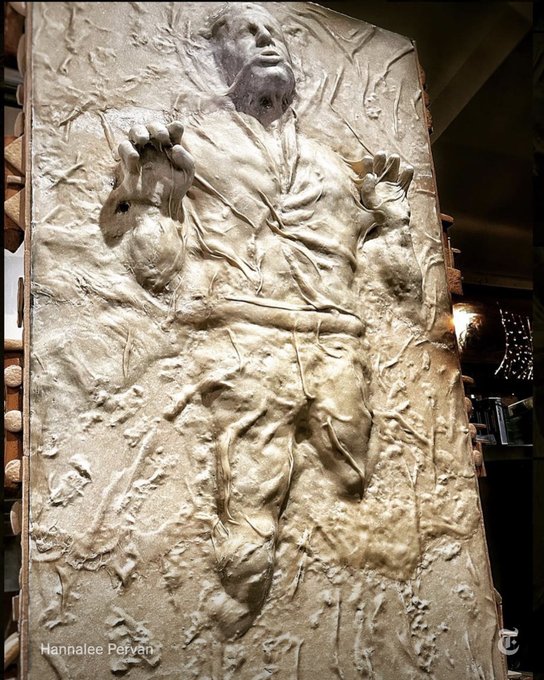 Taking inspiration from carbonite's first appearance in Star Wars, NYT reports that the One House Bakery in Benicia, California, has recreated Han Solo frozen in carbonite out of bread. The six-foot sculpture took Hannalee Pervan and her mother, Catherine Pervan, one month to create, working by night to realize their vision. The duo is familiar with the process of creating nerdy, food-based decorations, like a Game of Thrones White Walker and an Alligator Loki (nicknamed "Dough-ki"), since opening their shop in 2018. This latest Star Wars-inspired creation, dubbed "Pan Solo," now sits on display outside their bakery, ready for the town's Downtown Scarecrow Contest later this month.
Homages To Han Solo And Carbonite Go Beyond Star Wars
While there's nothing quite like the sculpture the Pervan family has baked, dedications to Han Solo and his experience in carbonite have permeated Star Wars fan culture since The Empire Strikes Back. Artists have dedicated fan art to the concept of carbonite, such as PhaseRunner's The Mandalorian and Star Wars: The Force Unleashed crossover work, featuring The Force Unleashed's Starkiller frozen by bounty hunters. Carbonite was also featured in the battle royale game Fortnite, in 2020, where the banana character Peely could be found frozen in one of the game's maps.
If the sheer size and effort of One House Bakery's latest fan work is anything to go by, it seems Han Solo's popularity isn't going to be fading any time soon. Working by night to ensure the quality of the project highlights how dedicated fans can be when something inspires them. The same dedication to classic Star Wars is reflected in fans purchasing memorabilia, with Han Solo's original prop blaster having been auctioned for over $1 million back in August. While new Star Wars shows like Andor and the upcoming Skeleton Crew will be exploring other parts of the galaxy far, far away, classic characters like Solo will always have a place in audience's hearts.
Source: The New York Times